Staff feature of the week is Ms. Campbell. She earned her Bachelor's Degree from CMU. She has been teaching in Mesick since 2017, but taught preschool many years before that. She loves to read, especially mysteries and historical books. She also has a daughter that attends Mesick Jr/Sr High.

Congratulations to Mr. Redman. He was nominated as the January Teacher of the Month by Z93. He was recognized live on air and also received a prize package worth over $500. Well deserved!

3rd – 5th Grade Boys Basketball Sign Up If your 3rd, 4th, or 5th grade son is interested in playing basketball, they can sign up with their teacher by Friday, January 13, 2023. Coaches and practice schedules are yet to be determined. The first game is on February 18th. The games will be on Saturdays for the following 5 weeks. If you have any questions, please contact Athletic Director, Stacy Quiggin via email at
quiggins@mesick.org

To start off the new year we will be featuring a staff member every week. Our staff go above and beyond to do what is best for our students. This week: Beth Kastl Bachelor's Degree from: GVSU Master's Degree from: CMU Teaching in Mesick since: February 2006 –Worked on curriculum alignment and writing curriculums –PBIS Wizard –Has 3 boys, and is busy chauffeuring them to all of the sporting events. –Loves traveling, especially to Disney or Tennessee

This morning we held the January all school assembly to talk about our core values and kick-off the new year. Todays assembly was a little different, students were able to participate in a game to test their knowledge of our core values. Everyone did a great job and had a lot of fun. We also picked our December no referral winner and perfect attendance winner. Go Bulldogs!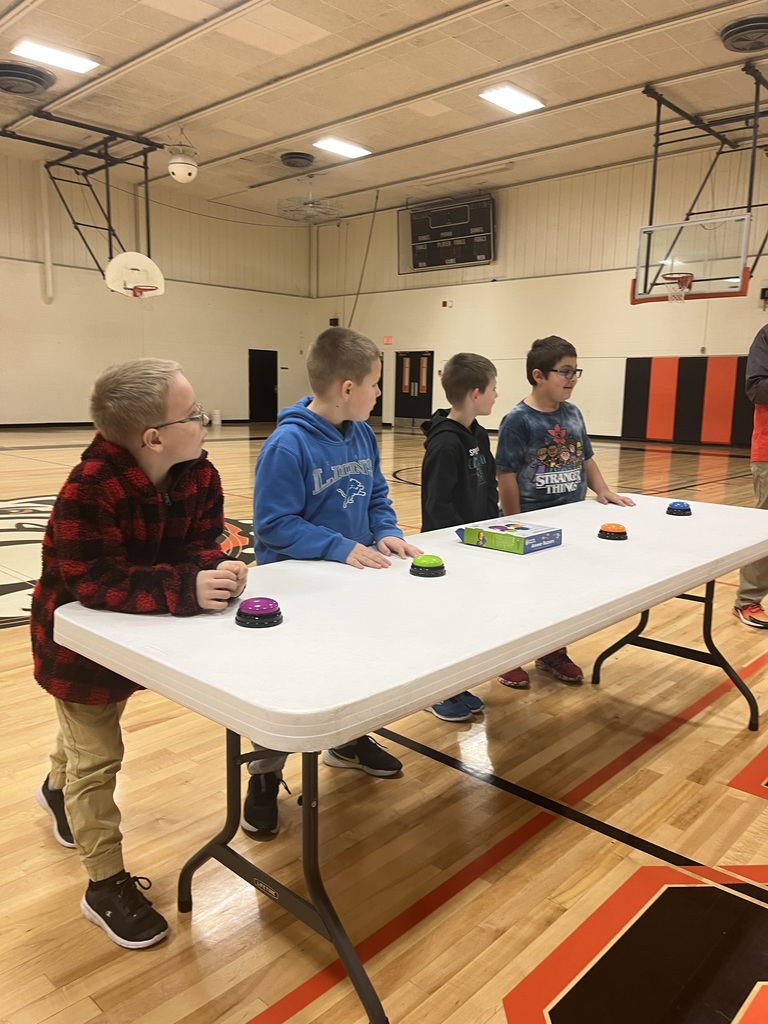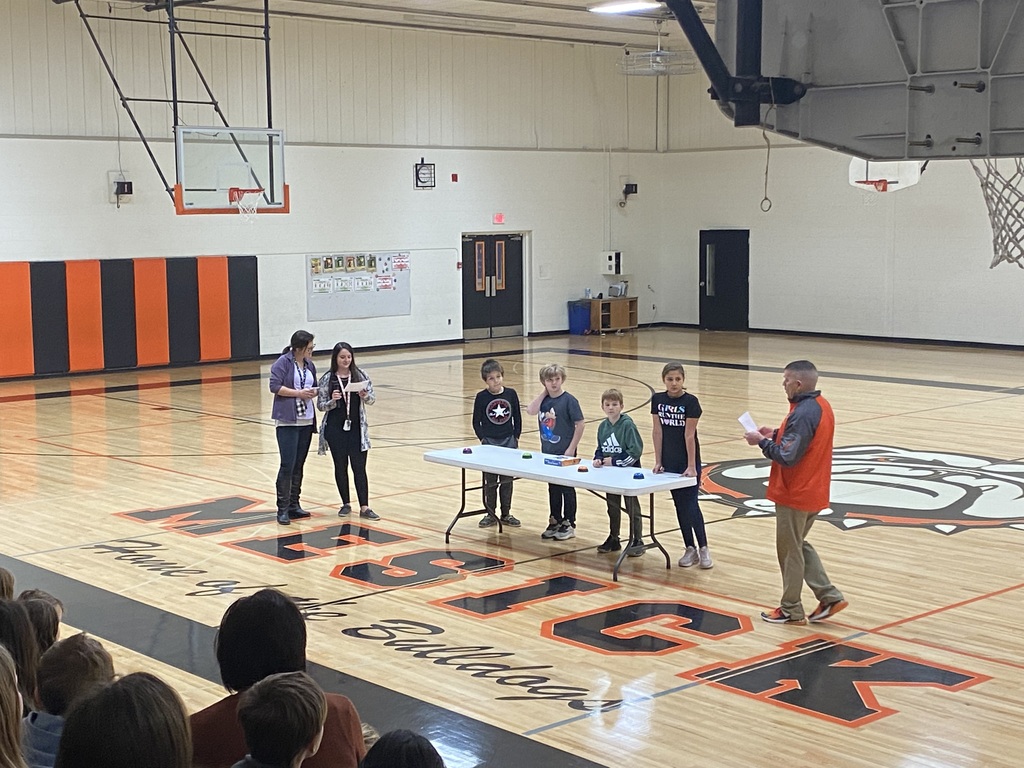 🧮 K-3 Math Tutoring 🧮 Tutoring begins today. If your child has signed up for Math tutoring, please pick them up promptly at 4:16 at Elementary office. Thanks for being a part of your child's learning.

Juniors and seniors got to learn from Mesick alumni college students in a panel discussion today. We really appreciated Mattie, Lexy, Jakob, Maggie, Kaylee, and Katelynn sharing their experiences with our current students as they consider their college options for the future.
Today is the deadline for senior items in the yearbook. Please contact Mrs. Elliott if you have any questions!
ElliottA@mesick.org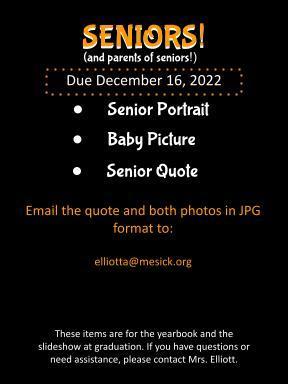 🧮 Math Tutoring, Elementary, Grades K-3 We will be offering Math tutoring for 7 weeks, beginning January 4th. If your child's teacher referred your child for this program, a permission slip went home yesterday. Permission slips are due Friday, December 16th, to hold a spot for your child.

A little late, but our October students of the month! Great job Bulldogs!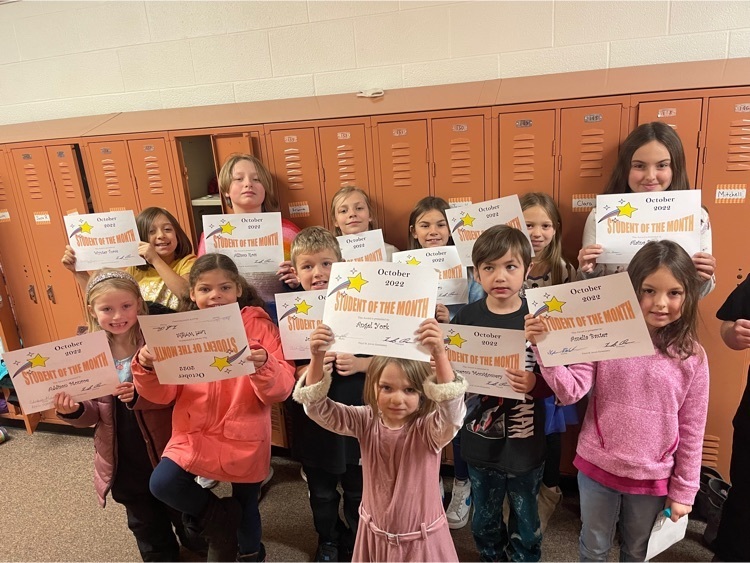 Senior yearbook items are due this Friday! Please contact Mrs. Elliott (
ElliottA@mesick.org
) with any questions!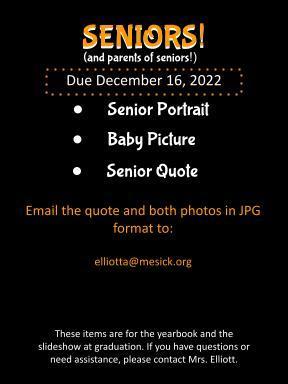 NHS held their annual food drive for this year; 2022. The results are amazing!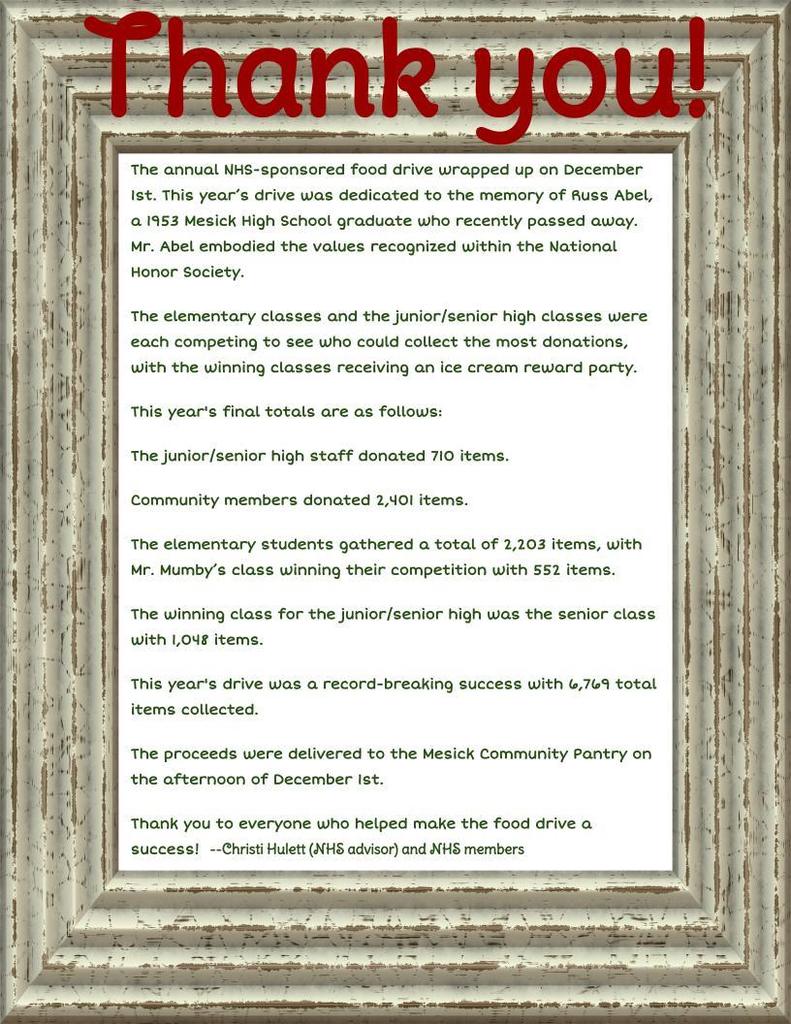 The Giving Tree Program is a program to help get Christmas presents for local Mesick students who might not otherwise receive gifts, due to financial difficulties. If you would be willing to sponsor a student or donate a gift item, please email Johanna Rasmussen at
rasmussenj@mesick.org
. Thank you in advance for your help! Wishing everyone a blessed Christmas season!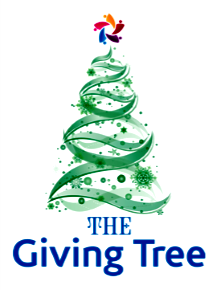 13 Days 'til Winter Break Dress up Days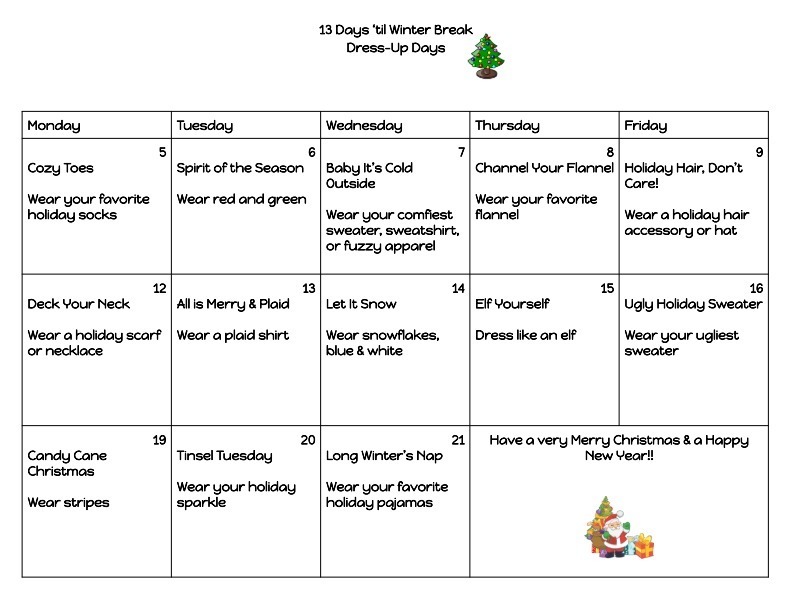 Today Mrs. Manley's 3rd grade class worked in teams to create a Roman road maze. Students had to create a blueprint, and today they put that plan in action.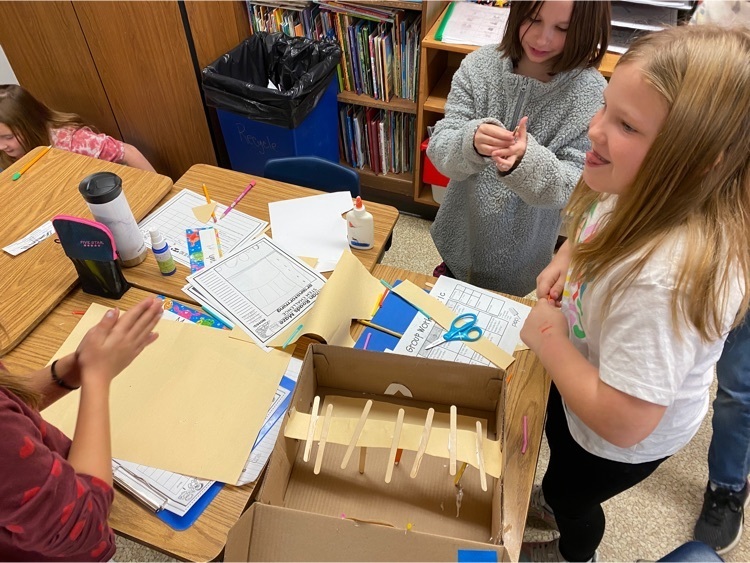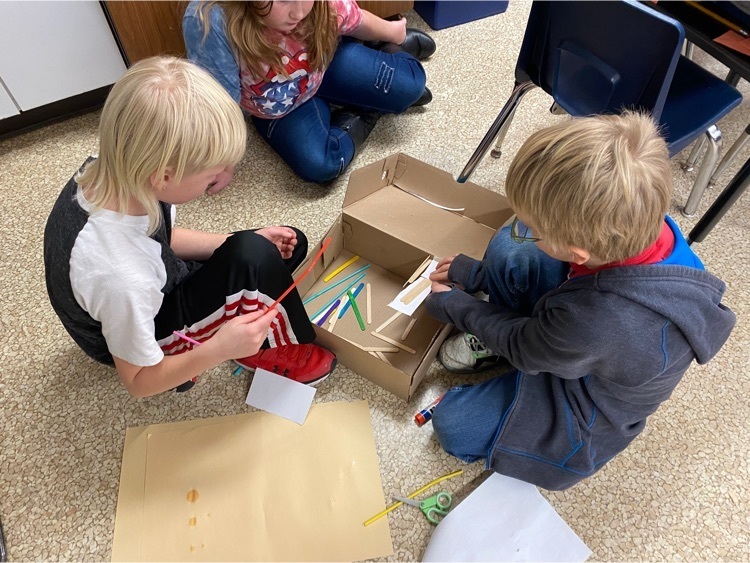 A few weeks ago the Mesick Boy Scouts visited the elementary to give a short presentation on all the things they do and the benefits of being a member. This is a great organization. Please reach out to the school if you would like more information.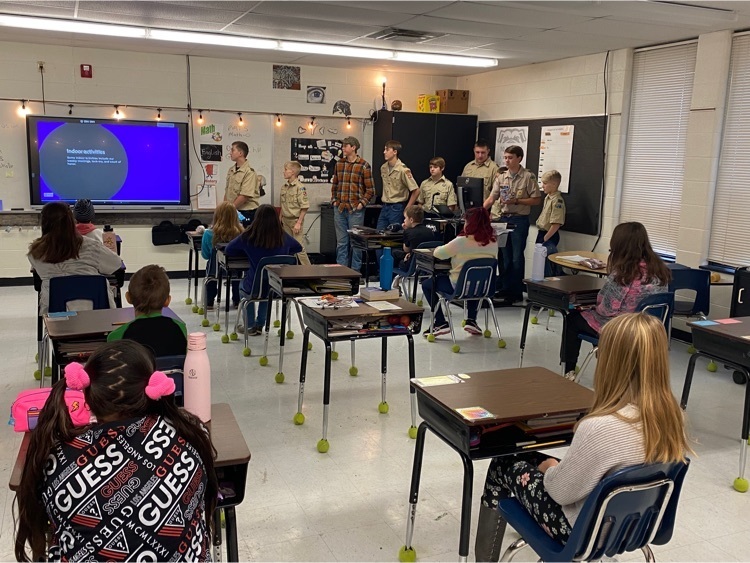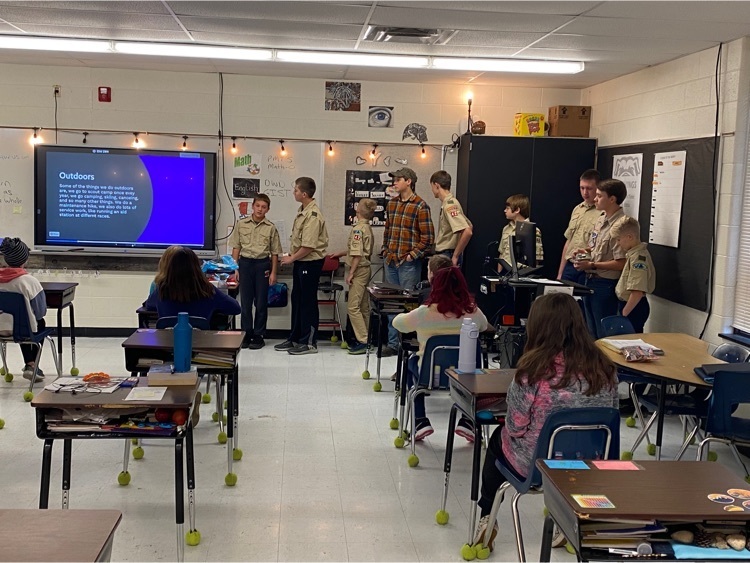 Congratulations to the elementary girls basketball team on a perfect season! The girls finished their season 6-0. Though the season was short, it was a great season for the girls. They put in a lot of hard work and learned a ton. Also, a huge thanks to Nate Hall for coaching the girls. Go Bulldogs!!!

Our lost and found is getting pretty full! Please encourage your child to stop by the lost and found to see if they have any missing items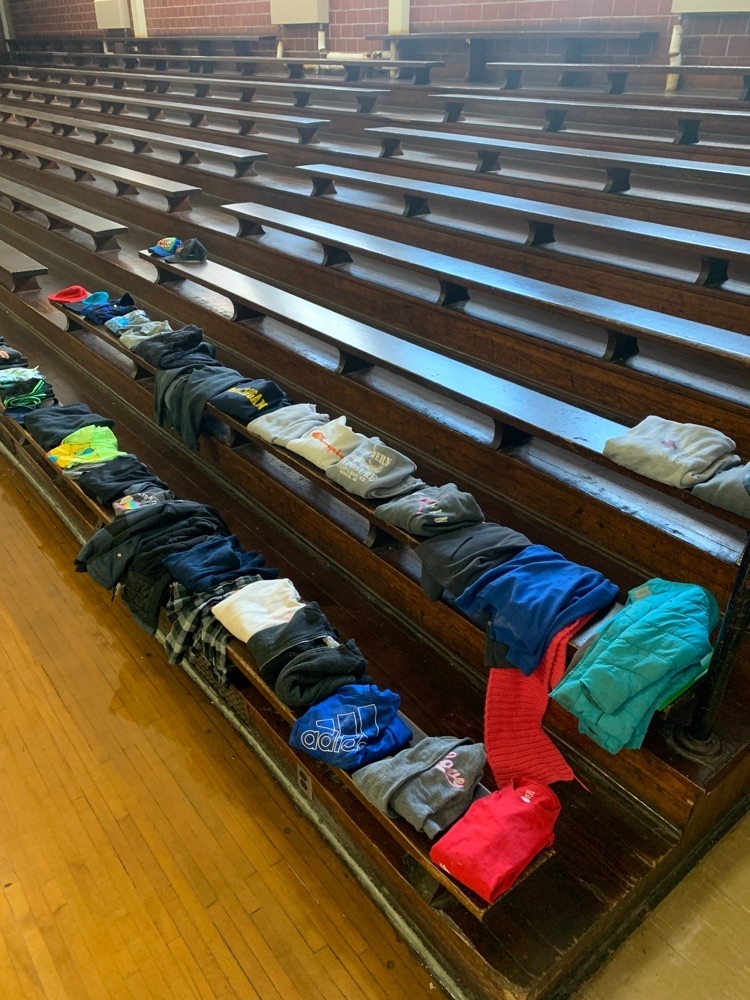 Saturday's Junior High Solo and Ensemble Festival has been cancelled due to the weather. An email to participating parent and students has been sent out with more details on a rescheduled date.

A few more KRN Photos from today!