Jostens of Northern Michigan was here, at the JR/SR High, today to meet with both sophomores and seniors. Sophomores were given information for ordering class rings and Seniors were given the information for ordering graduation products and their cap and gown. All orders, for both the sophomores and seniors, will be collected on Friday, September 14 during the High School lunch period.

The Principal's Advisory and Class Presidents are working hard on homecoming plans. The big game is September 28th against BRCC

Congratulations to our JV and Varsity volleyball teams as they recorded the first ever Mesick win in our new conference, the West Michigan D League last Thursday. Not only did they start the new conference off with a win, but they also recorded the first victory on our new court. Congratulations girls and keep up the great work!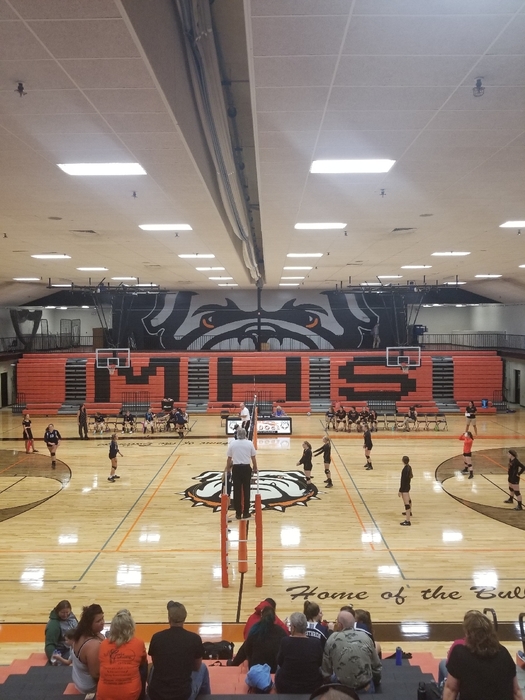 Coach Fitzpatrick is getting students in back to school shape.

The JR/SR High Kitchen has been working hard to improve lunch options. They added a deli bar for sandwiches made to order and added salad bar options. The students are loving it!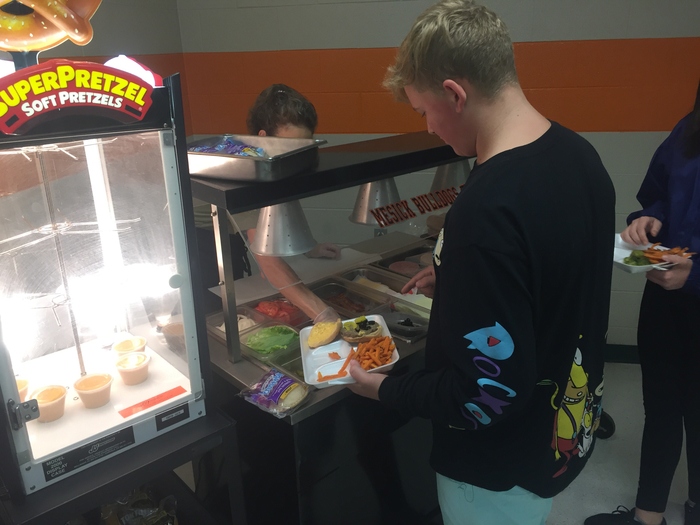 Students are loving the new Gaga Ball Pit!!

Elementary picture day is September 17,2018!

Thanks to staff who worked on this cool addition to our commons area over the summer!

The Cadillac Area Backpack Program will begin it's distribution on Friday, October 5. This program serves elementary students. Your child will receive six meals on Fridays to take home. Forms should be submitted to the elementary office by Tuesday, Sept. 25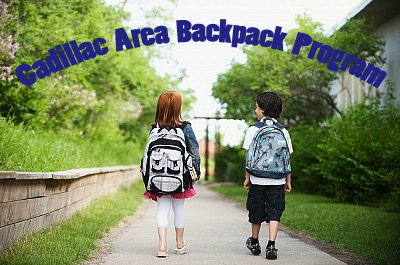 First day of school is officially in the books. It's going to be a great year! Go Bulldogs!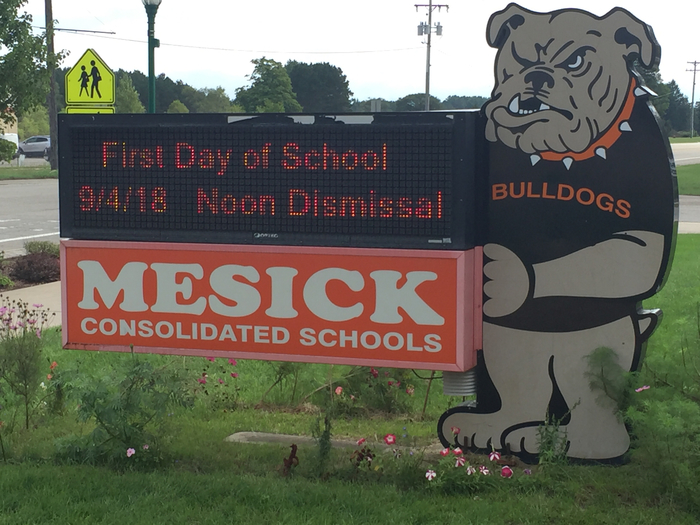 Community Golf Outing to support the Mesick Band and Mesick Athletics. Please get the word out more informatio and registration sheets will soon be available.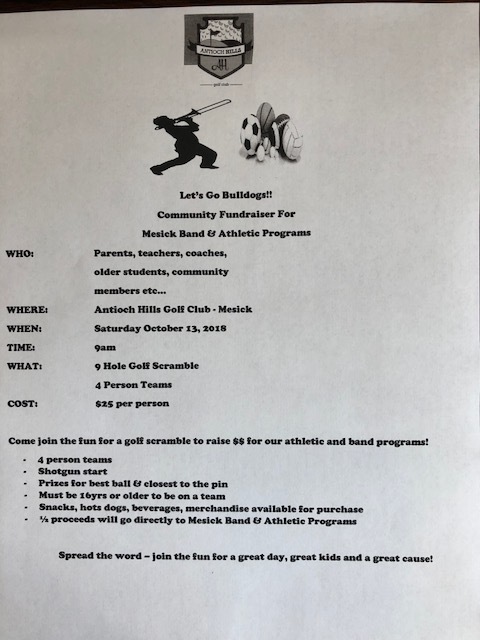 Mesick's staff has been working hard the last couple of days learning about trauma and working towards becoming a trauma informed school. Dr. Henry presented to the staff regarding trauma. Thank you to Ellen's Corners, they helped us during the power outage.

I would like to remind you that the Mesick Consolidated Schools takes student safety very seriously. This summer Mesick's Board of Education approved in hiring a school safety officer. We have hired Mr. Fowler. Mr. Fowler is a licensed police officer and is a tactical medical instructor. He will be helping our kids remain safe by training students and staff and assisting with various safety needs. Mr. Fowler will also be carrying a weapon. Mesick Schools will remain a weapons free school zone with the exception of Mr. Fowler. We will be introducing Mr. Fowler to the students so that they know he is safe and here to keep them safe. He will also be at tonight's open house if you would like to meet him.

Mesick JR/SR High Jostens will be here on Tuesday, September 11, 2018 to meet with Sophomores at 9:45 AM to hand out class ring information. They will also be meeting with seniors at 10:05 AM to hand out graduation order information; including cap and gown orders. Jostens will then return on Friday, September 14, 2018 to collect class ring and graduation orders during the high school lunch time; 11-11:32 AM.

Football season is here!!! JV plays at Marion on 8/23 at 6pm and the varsity is home Friday at 7pm vs Pickford! Hope to see you there!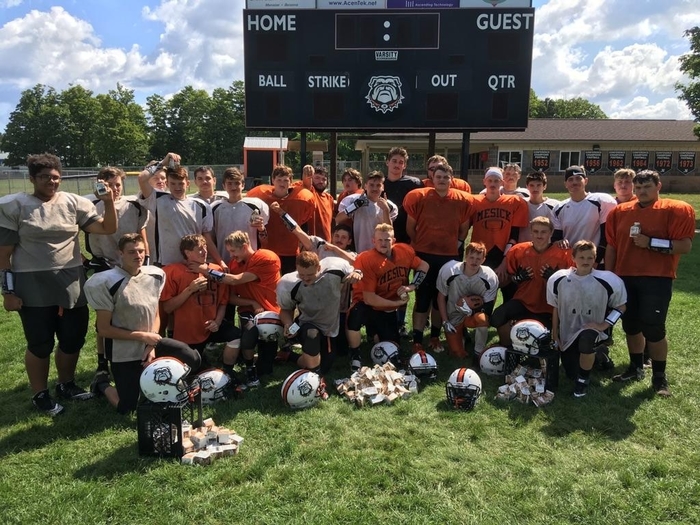 Mesick Junior and Senior High and Elementary School Open House is on Wednesday, August 29 from 5:00-7:00. First day of school is on September 4 and is a half day for students.

Mesick Schools had a lot of support in preparing the football field for the game this Friday, August 24 at 7:00. Thank you to Springville Fire Department for bringing a water truck to water the sod. Thank you also to Antioch Hills Golf Club for use of their equipment.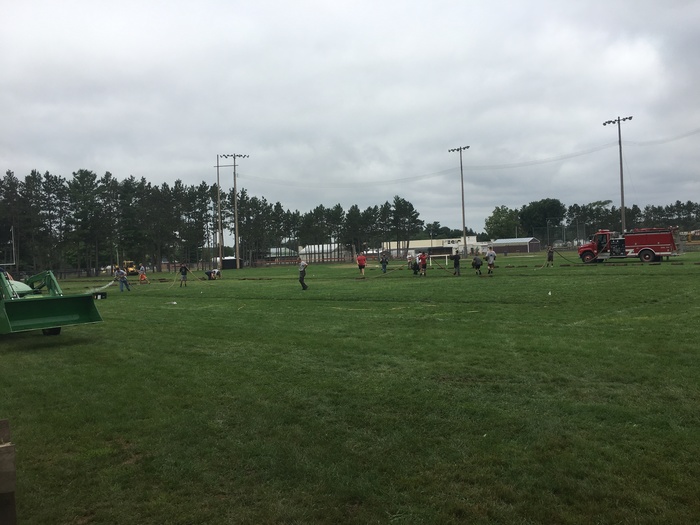 Mesick JR/SR High school pictures will be taken on Friday, September 7, 2018 throughout the day. All students and staff are required to have their picture taken for ID purposes, even if they are not purchasing a picture package. Picture forms will be given out with student schedules; specific with student name and ID printed on the form. Extra forms will be available in the JR/SR High Office.

This is a test post. Here are the notes from today's Thrillshare training:
http://5il.co/42js

Almost there - two more coats of sealant and it will be complete!